Facilities
Chapel

Auditorium

Art Room

Physics Room

Chemistry Room

Biology Room

Media Room

Computer Assisted Language Learning Room

Sewing Room

Cooking Room

Music Room

Table Tennis Room

Library

Small Chapel

Stella Maris Room

School Grounds

Gymnasium

Indoor Heated Pool
What Kaisei is Aiming at
Junior and Senior High School is an important time for students to develop, so that they can achieve their full potential, academically, spiritually, personally and socially. We encourage our students to establish their own identity, formulate their own values, develop understanding of others and cultivate the ability to share and cooperate,while enjoying their school life.
"We love because God first loved us. The First Letter of John."
Nurturing Personal and Spiritual Awareness
Daily Prayer and Retreat

We value time to pray in our daily school life. A weekly morning assembly is held for all students. Students of junior and senior high school gather separately to listen to words from the Bible. Each grade has a different theme for their annual retreat. This retreat includes listening to thought-provoking and encouraging words from a priest or engaging in collaborative activities to cultivate the ability to observe oneself and contemplate life.

Prayer through Music

Music is an important part of school life. It brings our hearts together for prayer. Students sing at special school events such as school anniversaries and graduation ceremonies. Christmas is celebrated with prayer and chorus and the Christmas Celebration culminates with the Hallelujah Chorus.
Developing a Charitable Spirit through Philanthropy
Welfare Education through Practical Experience

Students interact with children and people with disabilities to understand the diversity of society and learn the importance of coexistence. In a community service group, students plan and engage in activities that are beneficial to society, such as visiting nursing homes or volunteering at charity fundraising activities.

Student Planning and Management of School Events

Students are responsible for planning and managing school festivals and sports festivals. They work proactively and enthusiastically from the preparation to the clean-up. Working together with their friends, they experience a great sense of achievement. These happy experiences remain in their hearts forever.
Developing Cultural Understanding
Foreign Language Education

Foreign language education develops communication skills and fosters international understanding. All students take comprehensive classes in English and from 9th grade French is available as an elective subject. English Recitation and Speech Contests are held to provide opportunities for students to actively use English and enhance their confidence in real life situations.

Foreign Exchange Programs

For over 20 years, Kaisei School has been co-organizing students exchange programs with Australian Catholic schools. Kaisei students visit Australian schools and Australian sutudents visit our school. In addition, a Cross-Cultural Camping event is held for 9th graders so that they can learn practical communication in English. 11th graders visit France, the home country of Franciscan Missionaries of Mary, who founded our school. Through this excursion students experience the Kaisei School philosophy and help develop their global perspective.
Annual Events
1st Term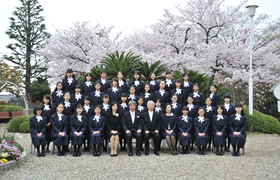 April

May

School festival
Retreat for 12th graders

June

July

Thanksgiving Mass for 7th graders
Senior high school ball sports festival
Exchange program for 10th graders
(Visiting Australia)

August
2nd Term
September

Sports festival
Exchange program for 10th graders
(Australian students visit our school)

October

School excursion to France for 11th graders
Camping event for cross-cultural understanding for 9th graders

November

Junior high school ball sports festival
Requiem Mass
Interactive learning program with disabled people for 7th
and 8th graders

December

School anniversary gathering
Christmas Celebration
Winter holidays
3st Term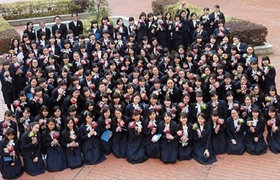 January

Retreat for 7th to 11th graders

February

English Festival for 7th graders
English Recitation contest for 8th and 9th graders
English Speech contest for 10th and 11th graders
Senior high school graduation ceremony

March

Junior high school graduation ceremony
Spring holidays